The best sunscreen for your face is the one that you will actually use every day. While it is perfectly acceptable to use the same sunscreen on your body and face, face-specific formulas tend to be lighter and more moisturizing. To cater to different skin types, tones, and sensitivities, we carefully considered numerous options and conducted brand-concealed testing with a panel of 14 testers who have diverse skin types and complexions. Our recommendations include sunscreens that are more moisturizing, free of chemical UV filters, and compatible with dark skin or makeup applications.
Aside from toxins and air pollutants, one of the primary causes of premature skin aging and skin cancer is the harmful rays of the sun. To protect your skin from the damaging effects of UVA and UVB rays, it is important to use the best sunscreen specifically designed for your face.
You might be wondering about the benefits of sunscreen for your skin. Essentially, sunscreen creates a protective barrier on your skin that reflects UV photons, preventing photoaging. In order to help you avoid free radical damage and early signs of aging, we would like to introduce some natural beauty brands that offer excellent sunscreens suitable for all skin types.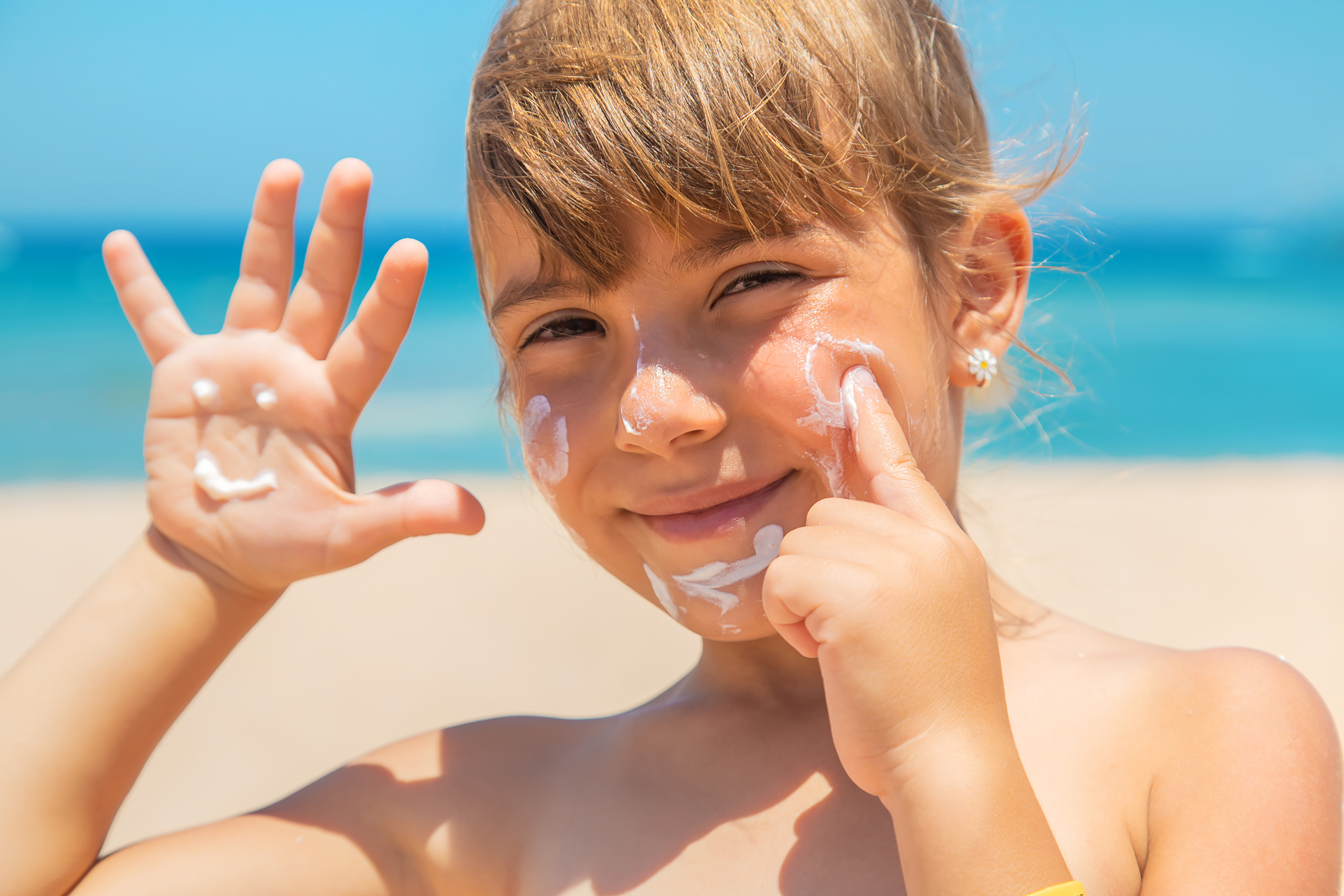 What to look for
SPF 30+
The American Academy of Dermatology advises selecting sunscreens with an SPF of 30 or higher on the label.
Broad spectrum
Select a sunscreen that offers UVA and UVB protection.
Price per ounce
Apply sunscreen liberally and reapply it frequently to ensure that you are fully protected.
A formula you love
The sunscreen that you will gladly use every day, rain or shine, is the greatest sunscreen for your face.
Read on to get your hands on the best sunscreen for everyday use.
Defends against toxins, stops dark spots and acne, and eliminates all impurities for skin that is cleaner and more radiant. Complete 8-Hour Protection with Skin Lightening Results formula that resists water.
Provides UVA and UVB skin protection. does not lead to skin breakouts or irritated skin.

Coverage of a wide spectrum

Long-lasting and non-greasy

suitable for all types of skin

Wearable during outdoor activities and swimming
RIVELA SUNSCREEN LOTION SPF 50
Rivela Sunscreen is a broad-spectrum sunscreen specially designed to provide maximum UV protection. It is made with liquid crystal technology, which gives it a velvety touch. 
Features:
SPF 50 offers 98% UVB sunburn protection.

reduces tanning and early skin ageing while offering greater UVA protection.

Antioxidants in vitamin E guard against solar damage.

It gives skin moisture.

It hydrates and softens the skin.
Best Suited For: Sensitive and acne-prone skin 
La Shield Lite SPF 50+
SPF 50+ and PA+++ La Shield Lite Sunscreen Gel is an oil-free, skin-brightening sunscreen gel with SPF 50 and PA +++. Sepiwhite's non-sticky, lightweight formulation helps to reduce pigmentation and blemishes. This gel protects the skin from UVA and UVB rays. It is water-resistant, non-comedogenic, and has passed dermatological tests. All skin types can benefit from using this brightening, paraben-free sunscreen.
Features:
Broad-spectrum broad-spectrum sunscreen gel with SPF 50 and PA+++

A sunscreen free of oils is made especially for skin illumination.

In three weeks, it produces a brightening effect and evens out skin tone.

Water-repellent, non-comedogenic, paraben-free, and dermatologist-tested
Rivela Tint Sunscreen Lotion:
Excellent broad-spectrum UVA/UVB protection is provided by the SPF 50 Rivela Tint Sunscreen Lotion. It has a light brown tone and is made of liquid crystal, giving it a natural appearance.
Features:
It guards against ageing.

Vitamin E is added to it.

It has undergone testing on skin.

It is water-resistant and non-comedogenic.
Bioderma Photoderm Creme Max SPF 50+ 
SPF 50+ Photoderm Max Cream by Bioderma Sunscreen cream offers the finest UVA/UVB protection for the face. This sunscreen protects cells and boosts the skin's natural defenses. No white or oily residue is left behind because of its creamy texture.
Benefits:
Provides very strong UVA/UVB protection.

activates the skin's natural defenses, guards against cellular damage risks, and fights against early cutaneous aging.

Ideal for dry, sensitive skin, freckled skin that receives a lot of sunshine, and pale skin

 A non-greasy, melting texture with an undetectable finish that leaves no white traces.
Bioderma Photoderm Aquafluide Tinted
In addition to evening out skin tone, the face sunscreen Bioderma Photoderm MAX Aquafluide SPF 50+ Dry Touch Sunscreen Golden Tint offers extremely excellent UVA/UVB anti-shine protection. The fluid, water-like consistency of this sunscreen makes application easy and comfortable.
Benefits:
Provides extremely high UVA/UVB anti-glare protection

A light, watery fluid texture makes for a pleasant and simple application.

A non-greasy, oil-free product with a dry touch finish is available.

Ideal for all skin types, even those with a mix of oily skin, sensitive skin, or sun sensitivity

Also suitable for freckled skin that is pale and skin that has received the most sun exposure.
La Shield FISICO SPF 50+ 
Helioplex technology, the most recent advancement in UV protection, is included into the cutting-edge, dermatologist-tested La Shield Fisico Matte SPF 50 Sunscreen Gel. It provides superb balanced broad-spectrum protection against skin-aging UVA and blistering UVB rays thanks to dry touch technology for a remarkably light, non-shiny finish. Helioplex is used to stabilize it. This lightweight sunscreen has a light, fresh scent and is gentle enough for even sensitive skin.
Key Benefits:
Fisico sunscreen provides spectrum-wide protection against both UVA and UVB radiations, preventing photodermatitis, photoaging, and sunburn.

Fisico sunscreen provides the best sun protection by obstructing UV rays.

When in contact with perspiration and water, Fisico sunscreen ensures a protective film over the skin.

Fisico sunscreen guarantees a matte appearance and doesn't leave the skin feeling oily.
Ekran Soft Silicon Sunscreen Gel With SPF 50 
Ekran Soft Silicone Sunscreen Gel Soft SPF 50 is a cutting-edge sun protection lotion that protects your skin from UV rays emitted by the sun. Outdoor activities expose the skin to UV rays, which can cause a variety of skin issues like acne, sunburn, and difficult-to-remove dark stains. Ekran Sunscreen provides superior balanced broad-spectrum defense against skin-aging UVA and blistering UVB rays. It has many nanotechnologies that help with skin protection from UV radiation.
Key Features: 
Provides efficient UV protection

Prevents UV radiation damage from occurring

Helps treat skin conditions like dry skin and skin irritability
Rivela Lite Sunscreen With SPF 50
Rivela Lite Sunscreen SPF 50 provides exceptional broad-spectrum protection from UVA and UVB radiation by combining chemical and physical filters. The Advanced Tinosorb filters provide a booster effect for enhanced SPF protection. It provides 98% protection from UVB sunburn. The sunscreen has a silky, non-sticky feel and uses liquid crystal technology in its formulation to help you slow down once again.
Key Features: 
Broad-spectrum, cutting-edge sun protection

High SPF value of 50+ for UVA and UVB light protection

Formulated with liquid crystal technology for a velvety touch and non-sticky sensation, this product slows the aging process.

It is a hypoallergenic, non-comedienne, water-resistant sun protection cream that has undergone dermatological testing.
La Shield Sunscreen Gel SPF 40
La Shield sunscreen gel has SPF 40 and PA +++. Your skin is protected from UVA, UVB, and infrared rays by a sunscreen known as Broad Spectrum UVA/UVB. This sunscreen is non-comedogenic, water-resistant, oil-free, non-greasy, matte, and dermatologist-tested, making it suitable for all skin types. This sunscreen readily spreads across the skin and doesn't irritate it.
Product highlights:
Offers reliable sun protection

Aids in shielding the skin from UVA and UVB radiation

Helps provide an oil-free effect

Suitable for all types of skin